Our uniqueness lies in treating the body and mind as inseparable from each other, we cure comprehensively, bring together specialists from different fields in one place and all this in a premium version that the Tricity market does not yet know.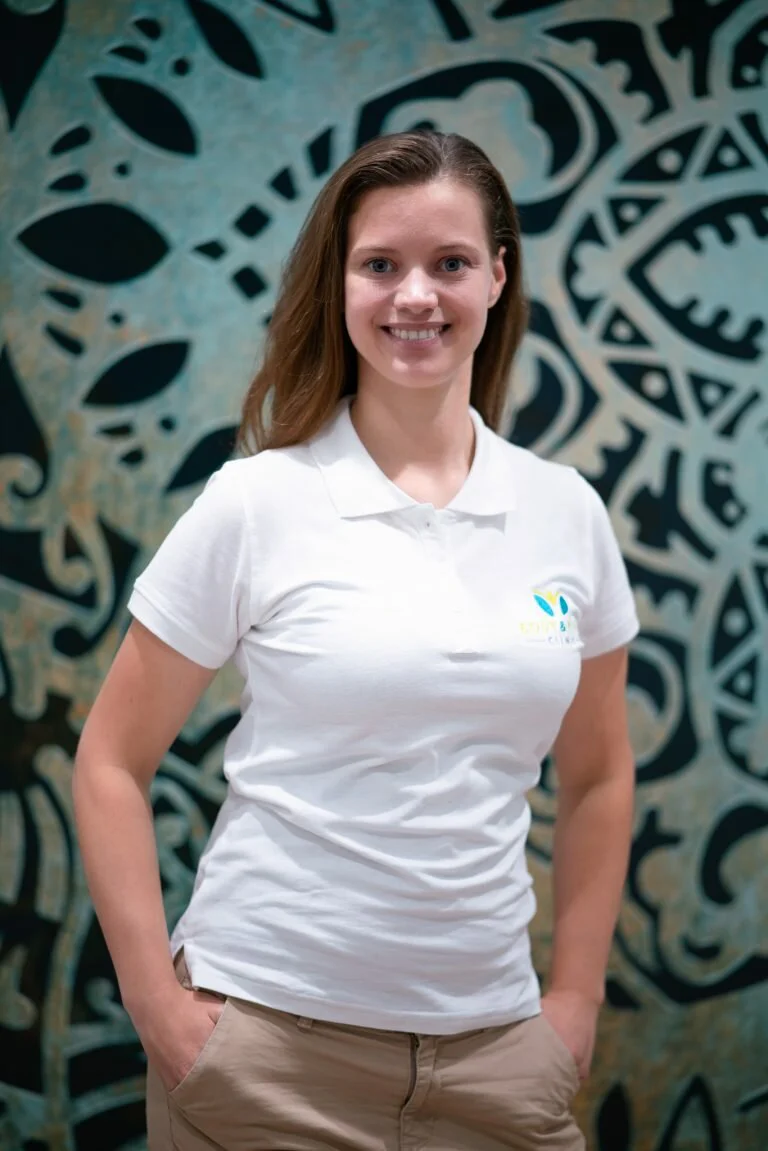 Bogna Listewnik
Leader of Body&Mind Clinic, Physiotherapist
For many years, she ran a one-person rehabilitation office. Out of a need to help even more people, she decided to open a Body&Mind Clinic. She specializes in visceral therapy and rehabilitation of temporomandibular joints. Currently she is studying Traditional Chinese Medicine, thanks to which she sees more connections between body and mind. Author of 2 books, blog and YouTube channel. Privately she loves travelling and her animals.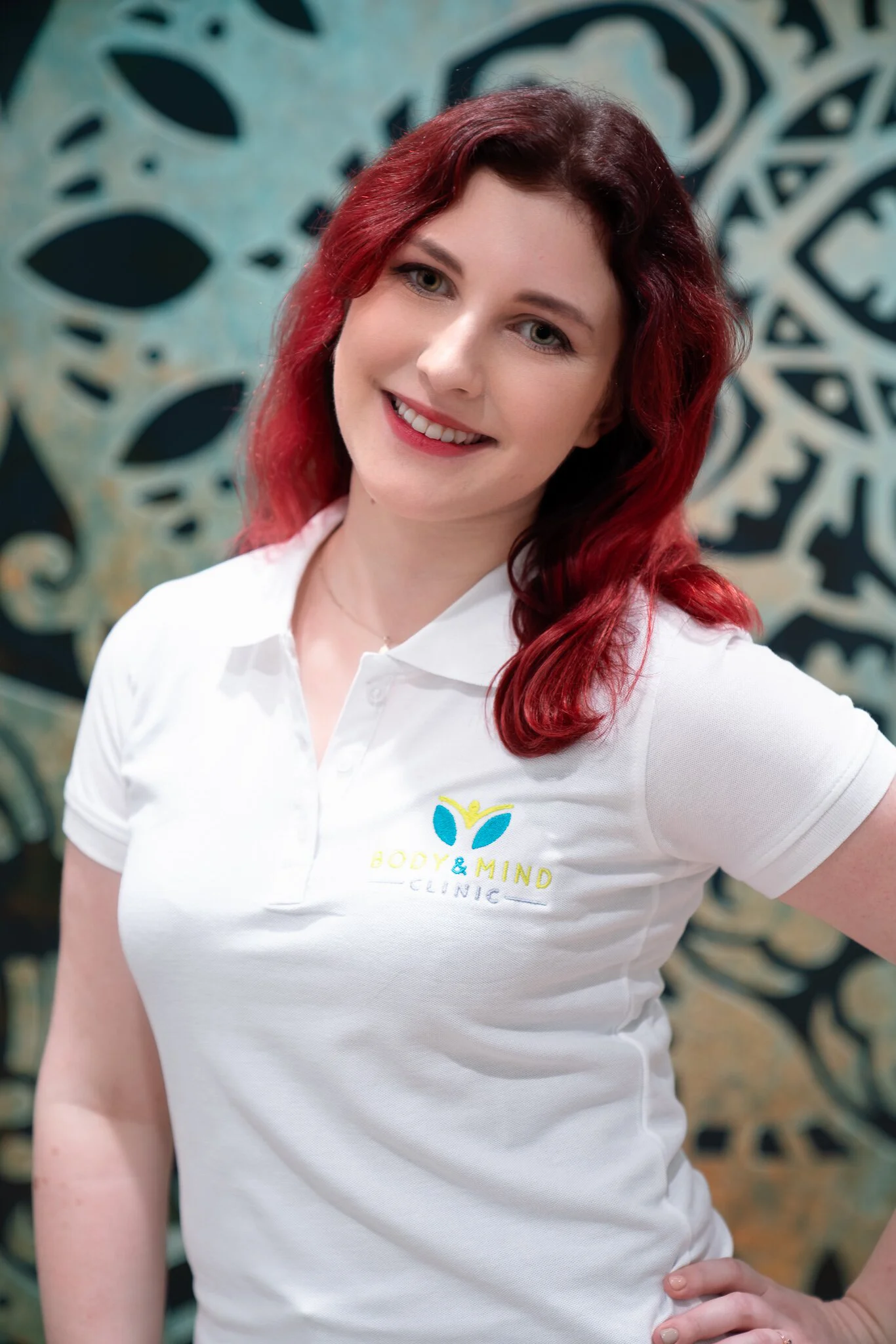 Patrycja Liwoch
Physiotherapist
An exceptionally talented therapist who easily establishes relationships with patients. She has practiced in the best physiotherapy offices in the Tri-City such as Osteohealth, Rehafun, OsteoSport.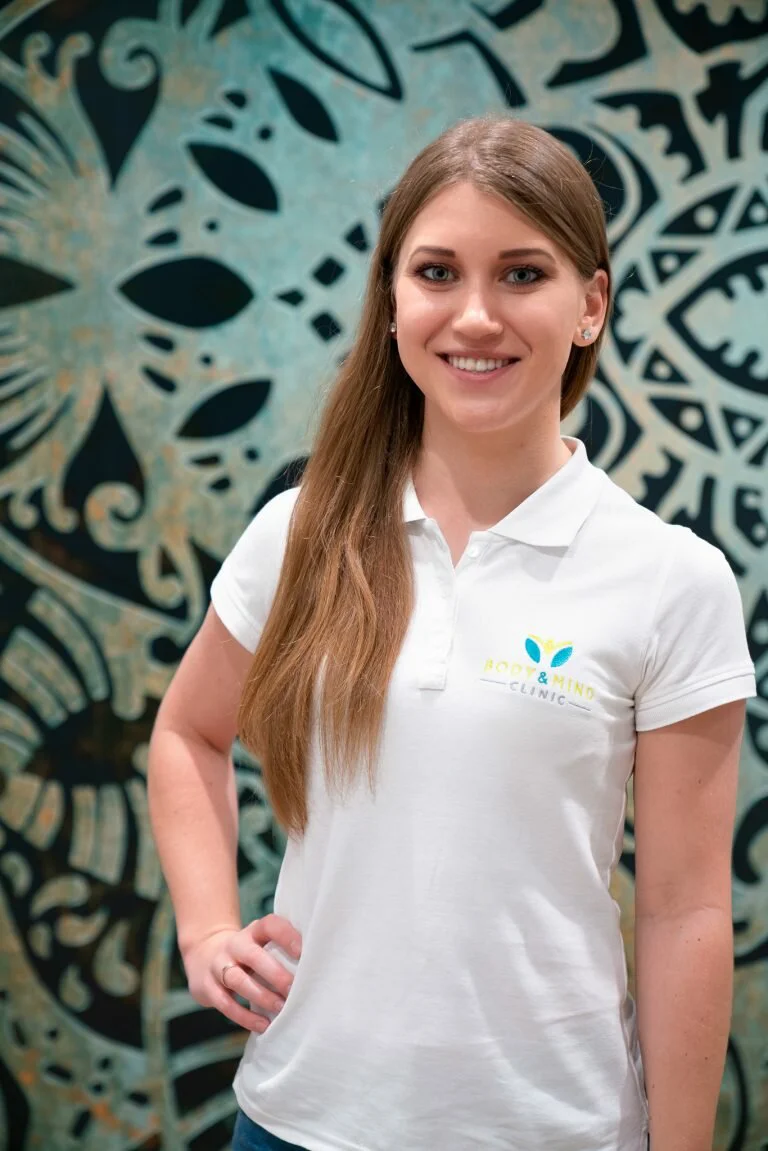 Justyna Samborska
Physiotherapist
Specialist in sports massages and treatment of spine, joint and muscle ailments. She has always wanted to become a physiotherapist, all the more so because during her volleyball career she saw how much they were needed. Lover of the Tatra Mountains and healthy eating.

Maciej Strychalski
Physiotherapist
A real Sherlock Holmes physiotherapy, always focused on finding the cause of the patient's problem, curing it and setting the patient on a straightforward path to health. Passionate about applied kinesiology, human body and mind.

Joanna Siereńska
Physiotherapist
Ambitious urogynological physiotherapist, fascinated by all women's problems. She has experience in treating such ailments as: urinary incontinence, pain during intercourse, pain of vulva lips and perineal area. She also takes care of women during pregnancy and right after delivery (also after Caesarean sections). She strives for continuous development to help her patients as effectively as possible. Privately, she loves to travel.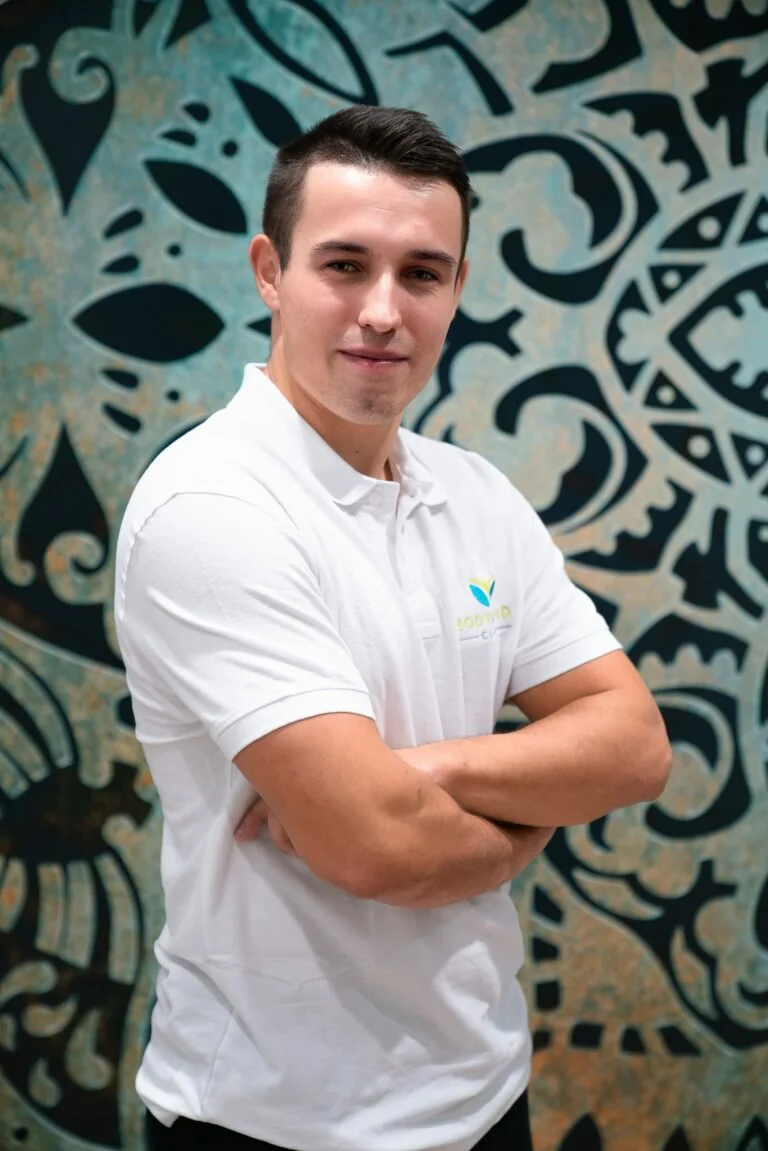 Grzegorz Jakubowski
Physiotherapist
Physiotherapist, medical trainer, movement and swimming instructor. He loves sport, which has accompanied him since he was little (mainly swimming and football). During the classes, both group and individual, he pays attention to the smallest details and adopts the rule that quality and not quantity counts. Besides, he loves to travel and enjoy life.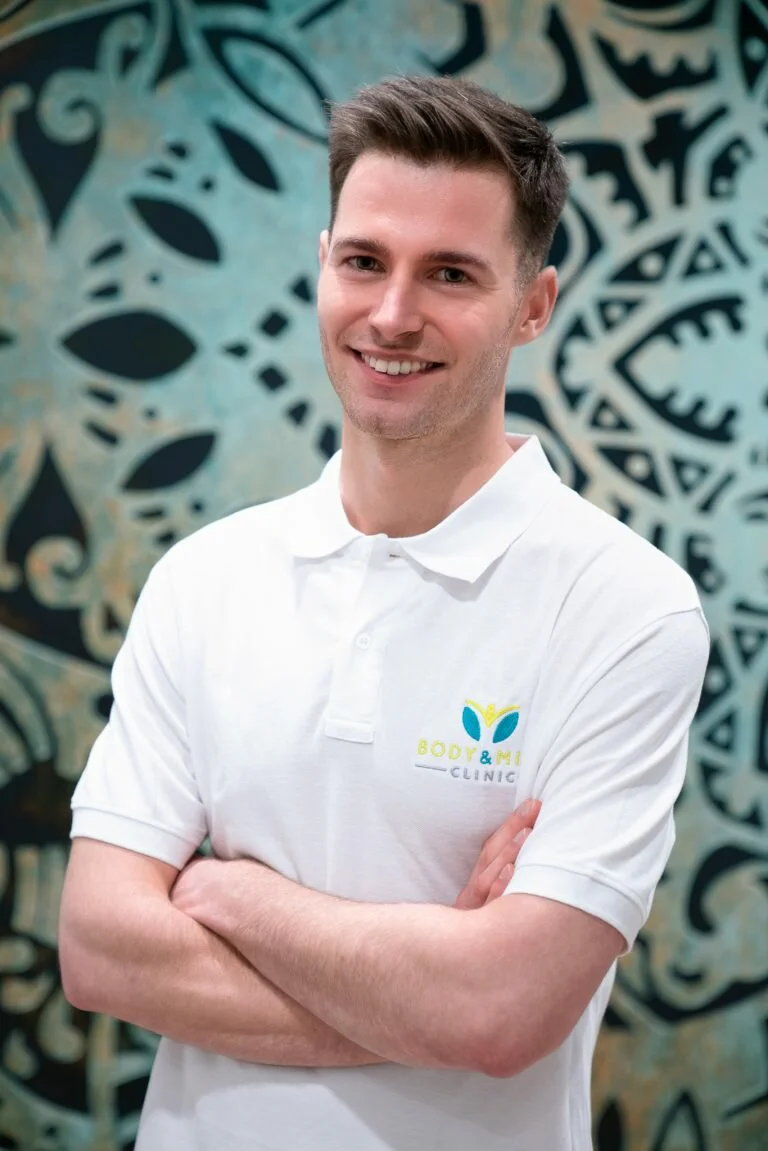 Jakub Perling
Physiotherapist
Physiotherapist by vocation. He loves working with another person on restoring body functions and removing pain and discomfort. When treating, he uses techniques of muscular and fascial relaxation and manual therapy. To diagnose, he uses applied kinesiology methods. Privately, he loves mountain hiking and wall climbing.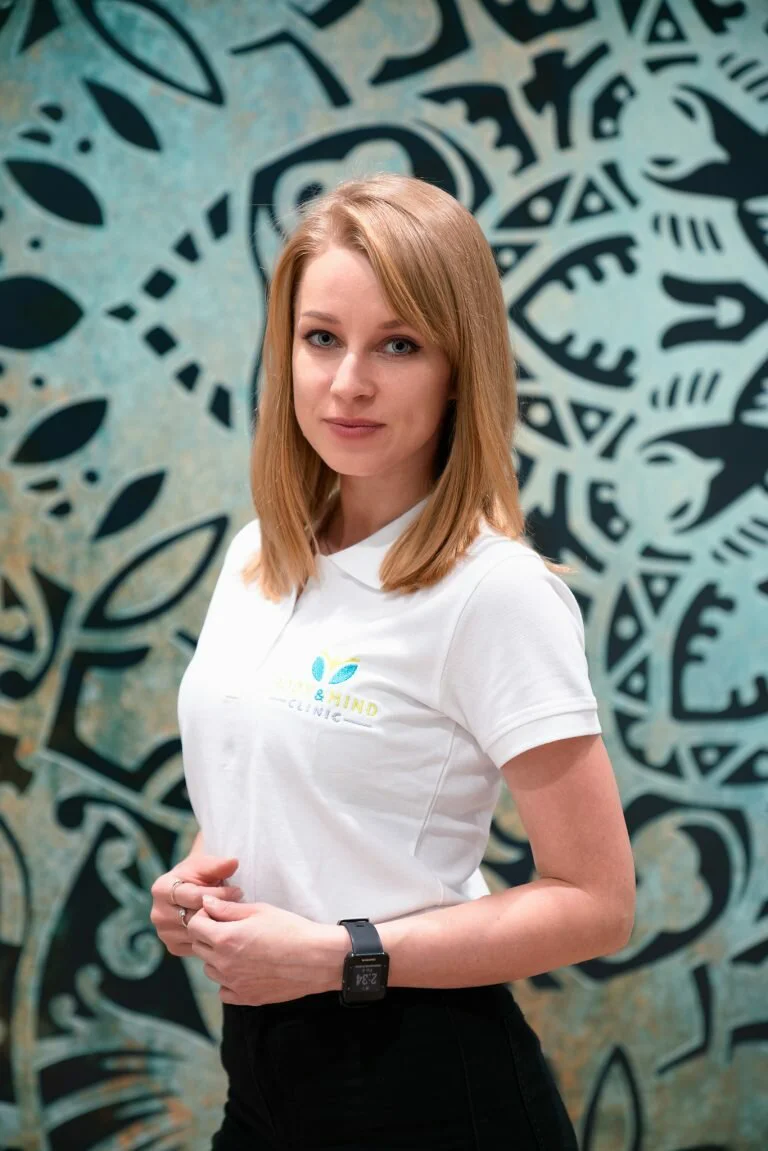 Ilona Lis
Dr. N. Med., Dietician
A dietician with passion and vocation! Doctor of Medical Sciences, author of scientific publications and the blog lekkitydzien.pl. She deals with complex treatment of overweight and obesity, nutritional support in sport - especially in running and building muscle mass and clinical dietetics. She is passionate about long-distance running and gyms. In her free time, she starts in Tricity street runs and experiments in the kitchen, developing fast and simple recipes for everyone.

Anna Zasadna
Physiotherapist
The physiotherapist who teaches Pilates classic. Certified by the international Peak Pilates school. In her work she focuses on developing the client's body awareness. She shows how simple exercises and taking care of proper movement habits significantly improve the quality of life.

Agata Baranow
Mindfulness teacher. She conducts workshops, short internships, and an 8-week program "Living in Attention". She received a certificate of readiness to teach from the Mindfulness Association, where she supervises her work. Founder of Tuite, she also cooperates with the Mindfulness Learning Circle at SWPS in Sopot. She develops her own practice under the guidance of lay and Buddhist teachers, regularly participating in retreats. Meditation and the practice of attentiveness had a significant impact on her decision to change after 10 years of working for the corporation. She is fascinated by the influence of the forest on the human psyche and the way it rebuilds the original bonds with nature. For many years she has also been friendly with music and yoga. She is active in the defence of animal rights.
Katarzyna Mojsiewicz
Certified facilitator of active OSHO meditation, a breathing technique practitioner. Sociologist by education, business practitioner by profession, leader with 15 years of experience in research and IT. "For many years I have been practicing recovery, developing and experiencing the power of life creation. I have met many great teachers on my way, including techniques of cleansing and reaching each other through body and breath, working in the heart field, shamanic rituals. I feel that my mission is to bring light, peace, build a space to meet with myself. To find and activate the Inner Power. I feel that spirituality concerns each of us. Everyone should have a chance to touch the meditations of the East, shamanic power paths, Hawaiian healing techniques, Sufi dances of purification. In the time that he chooses, in the form that he accepts. This is what I want to share. This is my path. My goal." www.katarzynamojsiewicz.pl

Magdalena Bendryn
Psychologist, Logopeda. Energetic, empathic, open to people, helps both adults and children. She completed first and second degree of Solutions Focused Therapy, and other training related to therapeutic and diagnostic work. She cooperates with the "Solution Centre", e.g. in the field of TSR training and with the Foundation of Social Initiatives "Łajba". Currently he also works as an academic teacher at one of the Tri-City universities.

Ewa Karina Napolska
A holistic approach to man, embracing the sphere of body and spirit, is my greatest passion and joy of life. When I discovered yoga, I knew I was taking the right direction. For me, yoga is a personal fulfilment and a great discovery that all limitations of body and mind must be approached with full acceptance and self-confidence. Yoga is a space and freedom in which I develop as a human being and a teacher, and everything I reach, everything I discover I pass on to the participants, while learning from them. No one has a patent on knowledge. Following this maxim, I am constantly improving my teaching skills. I very much hope that the lessons in my company will help you discover how beautiful, free, full of joy and (yes, yes) humour the practice of yoga is. I am an instructor in the hata yoga, vinyasa yoga, air yoga, pilates and FACTS functional training. You are cordially invited to the classes.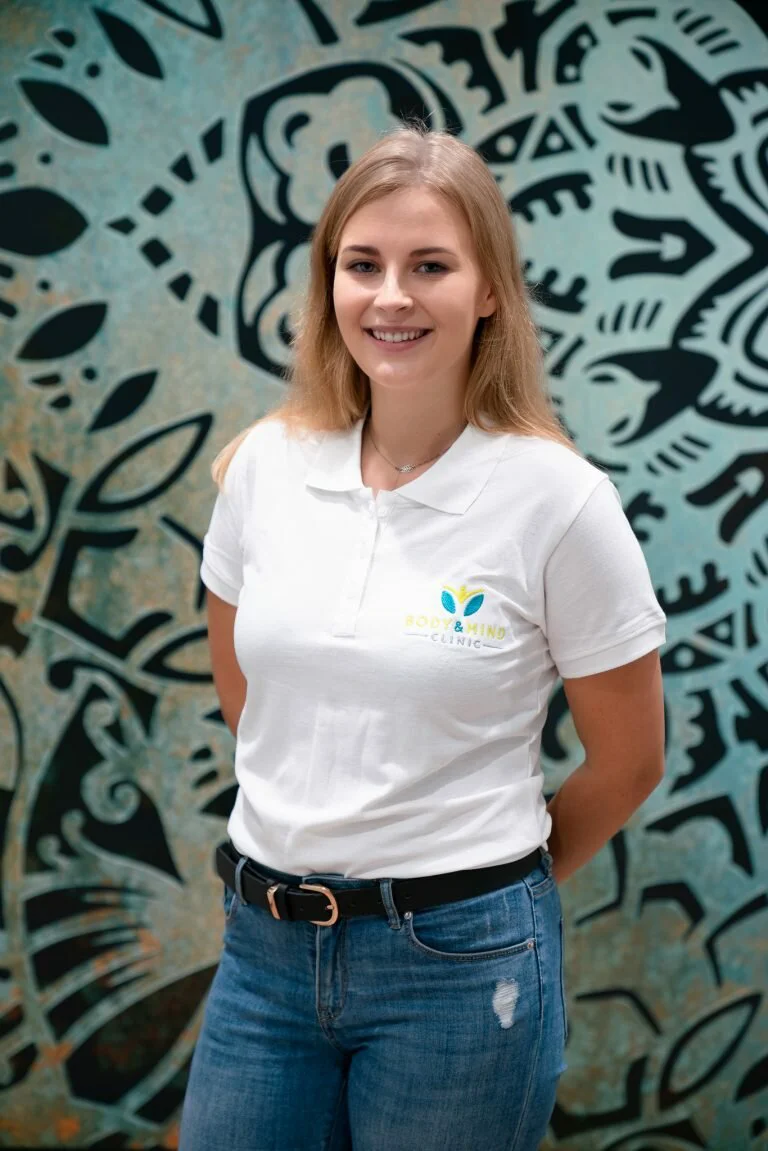 Marta Sominka
Receptionist

Aleksandra Czarnecka
Receptionist
Our goal is to help as many people as possible for as long as possible. At Body&Mind Clinic we believe that we can achieve this by not only providing high quality services in the field of rehabilitation and health prevention. We promote a healthy lifestyle and comprehensive approach. We believe that body and mind are inseparable and interdependent.
Czy Twoja praca wymaga długich godzin spędzonych za biurkiem?
Pamiętaj o tych 10 prostych zasadach, a twój kręgosłup odwdzięczy Ci się komfortem bez bólu po długich godzinach spędzonych w pozycji siedzącej. Przygotowaliśmy je specjalnie z myślą o ludziach zapracowanych. Wprowadzenie tych zasad w życie nie zajmie Ci więcej niż kilkanaście minut dziennie. Zapisz się poniżej – podziękujesz nam później.